'Software engineer and Developer' is the world's most in-demand profession
People no longer regard programming and web development as simply any other academic curiosity.
Rather, they've now come to view it practically, and have subsequently started seeking out career paths and job opportunities in the same.
Honestly, in 2021, there are only but a handful of other fields, besides programming and web development, that pack such promise and demand such attention.
Read on to find out why learning programming and web development has become absolutely indispensable in this digital time and age!
Prerequisites For Acing Programming and Web Development
For acing programming and web development, there are certain prerequisites that you need to take care of at the outset.
Basic Mathematics
To begin with, you need to bear in the mind the fact that programming is all about problem-solving, an aspect that is rather intimate to Mathematics as well.
Hence, as a budding programmer, you're advised to have at least a fundamental (basic) knowledge of mathematics before you begin your programming journey.
Programming Languages
In the world of web development, programming languages constitute the fundamental building blocks.
Depending on the requirement, as a developer, you can make use of programming languages to build either a website, app or particular software.
Hence, it's vital that you learn at least one programming or scripting language to kickstart your web development career.
Libraries and Frameworks
This is not a strict prerequisite. But as a budding developer, you're encouraged to familiarise yourself with different kinds of libraries and frameworks.
As well as some basic web development tools, such as text editors, web browsers, and the like. This serves the purpose of accelerating your learning process.
Logical Reasoning Ability
A large chunk of programming comprises breaking down comprehensive problem statements into smaller and simpler modules. This requires a great deal of conditional thinking.
Thus, it's preferable for you to have strong logical reasoning abilities.
Advantages of Honing Web Development and Programming Skills
Since programming and web development are used in almost every other industry out there, learning these skills allows you to gain a host of advantages.
Job Security and Work Inflow
There's a massive boom in tech and software jobs all across the globe. Thus, learning programming and web development will make sure you and your skills are always in-demand.
Whether you decide to go for a corporate career or adopt a freelancer life, you'll never be out of work.
Great Career Trajectory
Programming and web development jobs are among the most lucrative career options out there, thereby promising a great career trajectory.
Taste of Creativity
It gives you the opportunity of digitizing your ideas and presenting them to the world at large. As a result, you gain the ability to create anything that you want and implement it to your own liking.
Improved real-life skills
Programming and web development improves your existing problem-solving abilities and helps you approach complex problem statements in a much more disciplined and structured manner.
Freedom
All you require to execute programming and web development is a system and a stable internet connection. It effectively means that you can take up work from any corner of the world — your physical presence won't be mandatory.
Job Opportunities
Number of Jobs, 2019–1,469,200
Job Outlook 2019–2029–22% (much faster than average)
Employment change 2019–2029–316,000
As per the recent U.S. Bureau of Labor Statistics, demand for software developers is expected to rise by 22% between 2019 to 2029.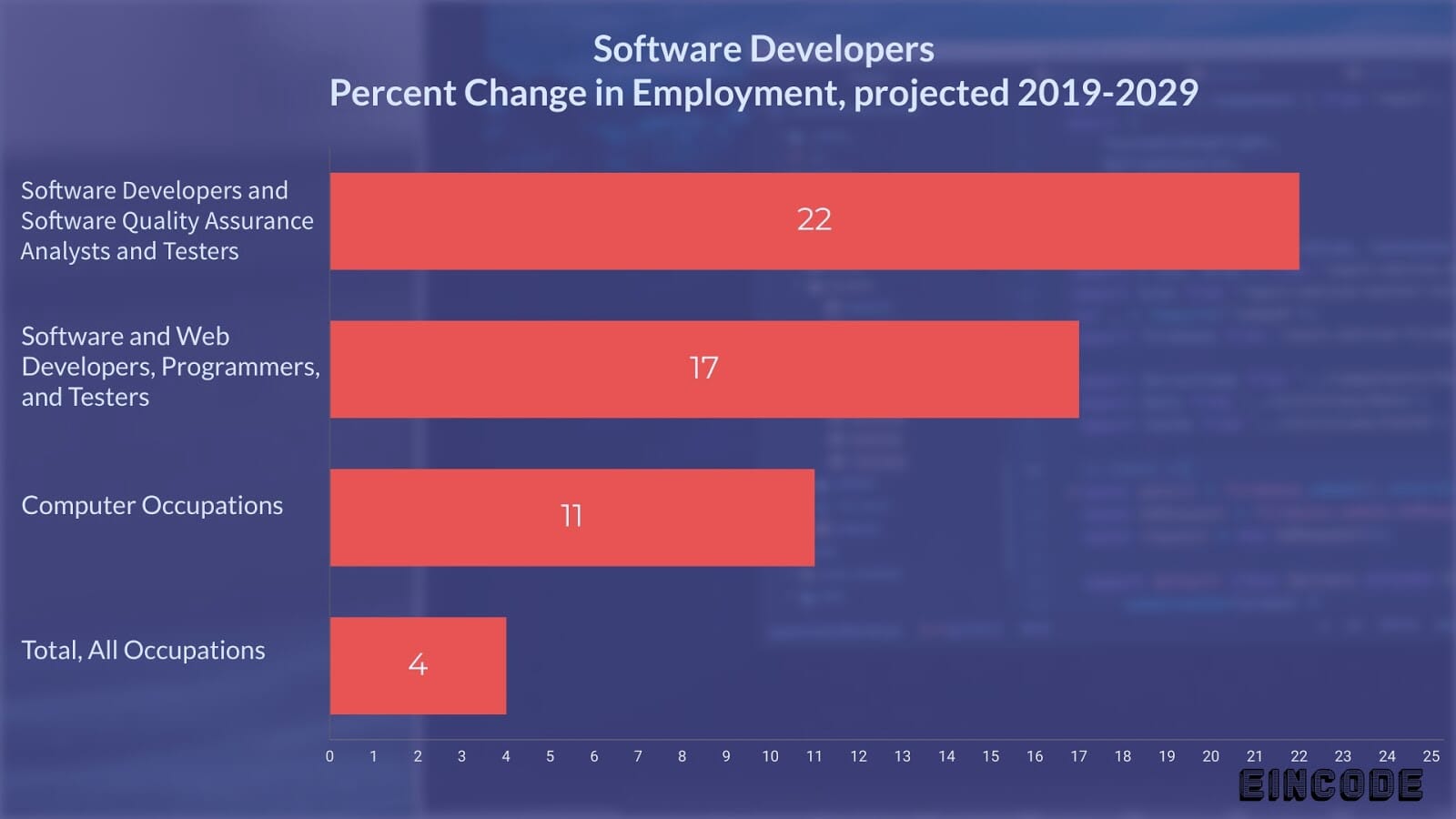 Note — All Occupations include all occupations in the US economy. Source — US Bureau Labour Statistics, Employment Projections Program
Programmers and web developers can opt for various career paths and job descriptions. Some of them are listed here -
Applications Developer
With programming skills at your disposal, you can easily create a mobile application for any service or product out there.
Game Developer
Given the response that a good video game is able to garner, game developers continue to be one of the most sought-after personnel in this particular industry.
UX Designer
In this job description, you're given the task of designing the interface of a website or an application in such a manner that it delivers the best possible experience to the end-users.
Software Engineer
A job of a Software engineer is to analyse user requirements, and then design, build, and test software that caters to these particular requirements.
Software Tester
A software tester carries out automated and manual tests to ensure that the software created by the developer meets its destined objective.
Monetary Compensation
The demand for developers is booming with every passing second, which subsequently makes it a very competitive industry.
Web developers, and other IT professionals, are, thus among the highly paid professional workers out there.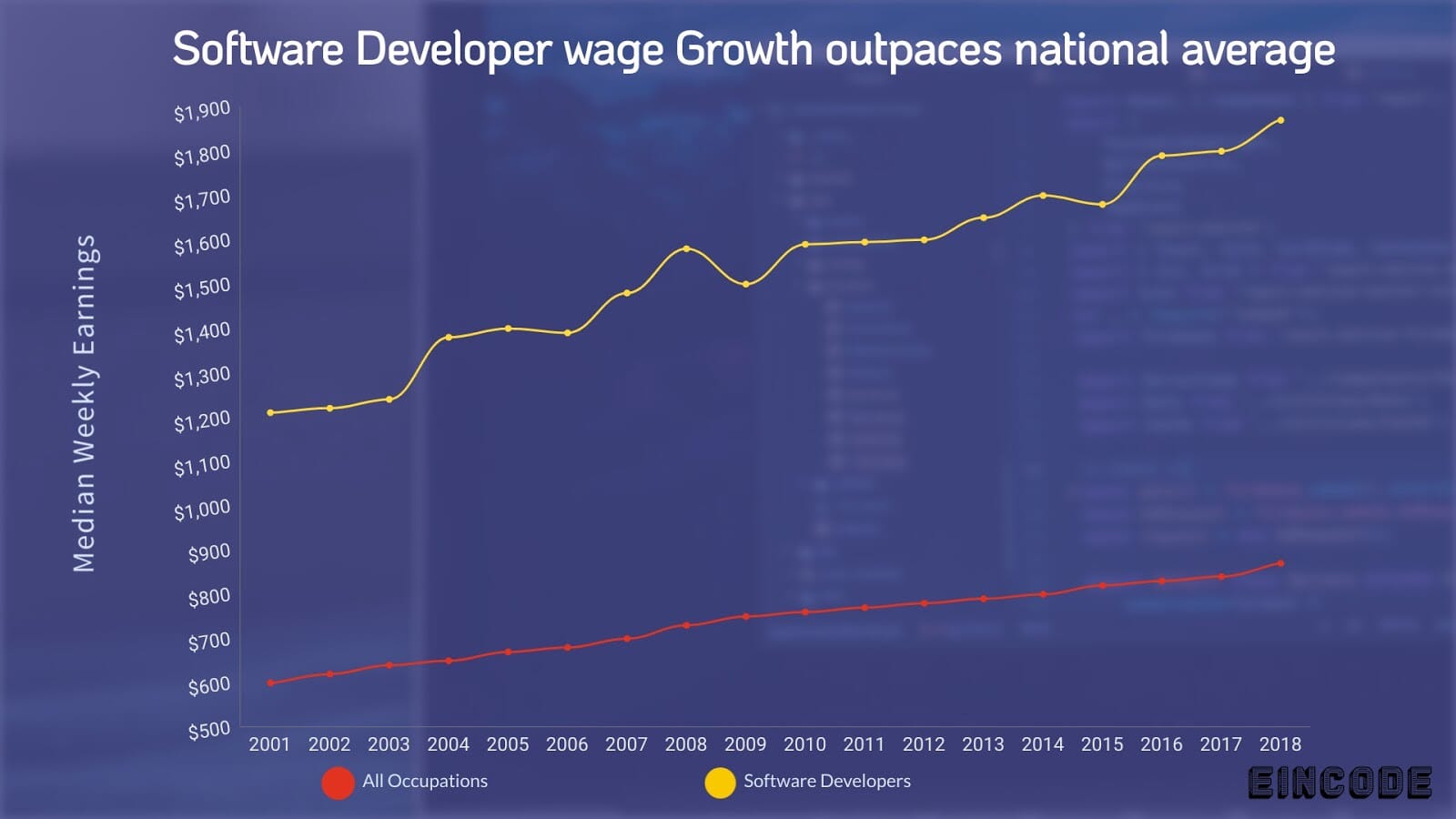 Analysis of U.S Bureau of Labour Statistics Current Population Survey nominal dollars
In the current scheme of things, the average salary of a web developer stands somewhere at $34/hour or $70,000/year.
While beginners stand to make around $45,000/year, experienced professionals can earn as much as $111,000/year.
JavaScript Developers Salaries in the USA have been witnessing an increasing trend throughout — with a slight drop in 2021 due to the Coronavirus.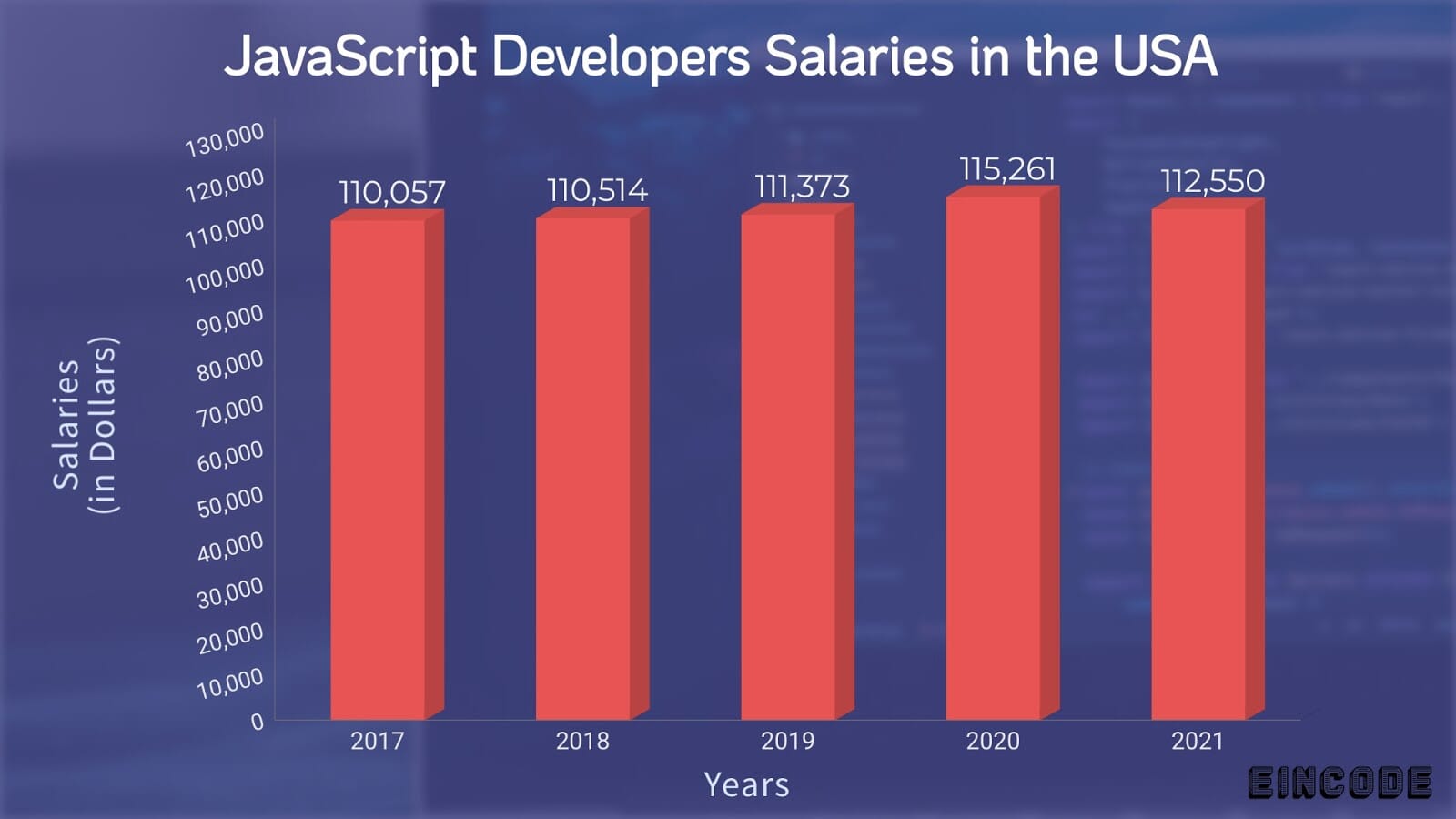 (Data Source)
JavaScript Developers Salaries in Germany have been rising steadily — witnessing an increasing trend throughout the years.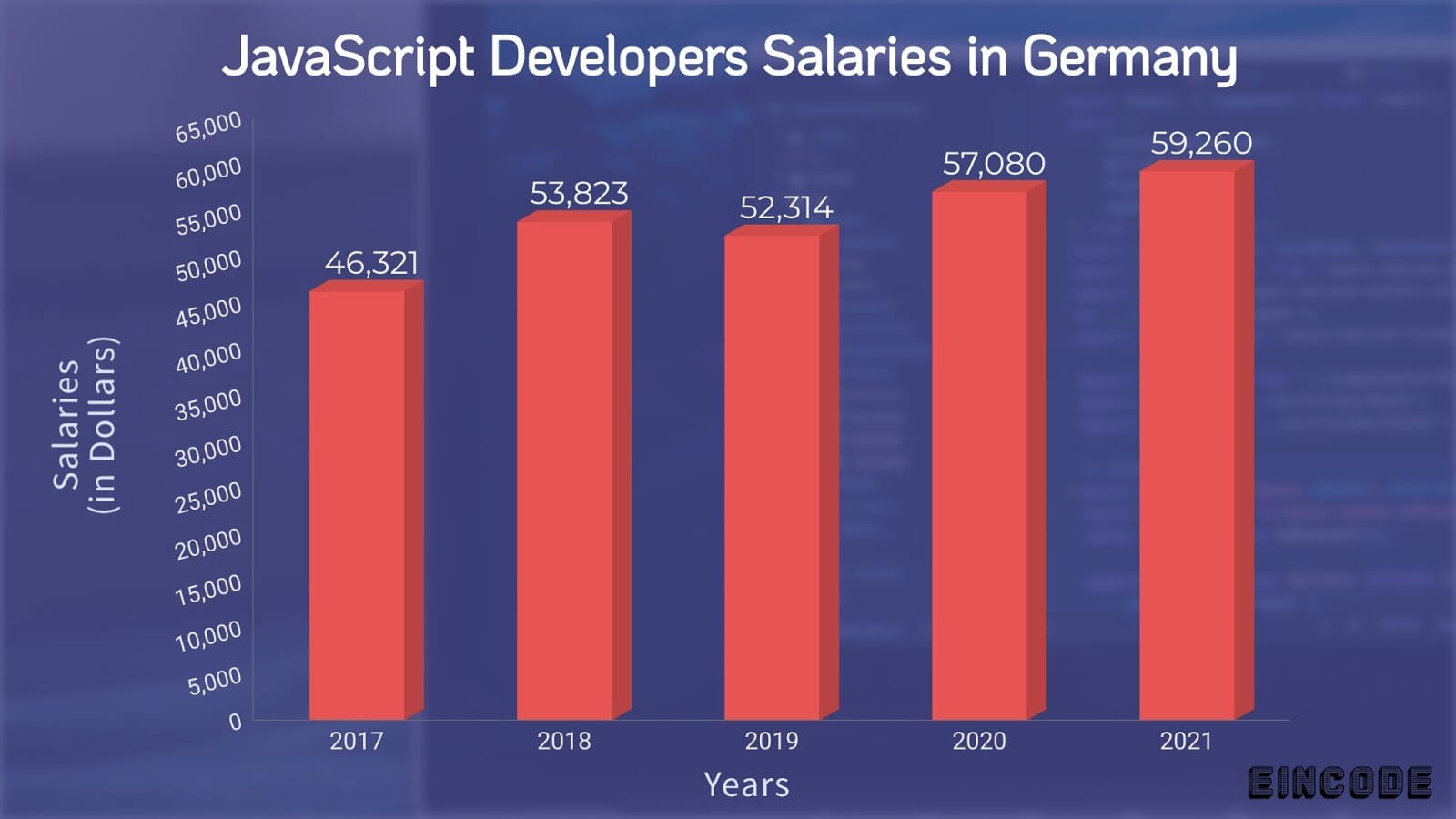 (Data Source)
Grow as a developer with Eincode
While learning programming and web development isn't a particularly complicated affair, it does require you to follow a particular structure.
Without the right guidance at your aid, you run the risk of being caught in a never-ending loop. This is where Eincode comes into the picture. Dedicated to providing the best online learning
experience to its students, Eincode is committed to its philosophy of giving rise to the sharpest developers and coders out there.
Eincode's instructor, Filip Jerga, believes that anyone can learn programming if taught right — in an easy and practical way.
Why Eincode?
Eincode makes use of real-life projects to explain challenging programming concepts, making our students fluent with each and every aspect of the course module in the process.
Students are already using these real-life projects in their portfolios which makes them work-ready as soon as they complete the course.
All the courses follow a no-fluff, no-endless-theory methodology, and are focussed on practical learning — exactly how web development and programming must be taught.
There are no shortcuts at Eincode. Only in-depth understandable explanations backed by real-life examples.
As an Eincode student, you'll always have access to transparent, fast and open communication with the instructor, Filip Jerga.
What's the wait for? Check programming courses on: https://academy.eincode.com